The Texture of My Memory
:
Dennis Scholl
Past exhibition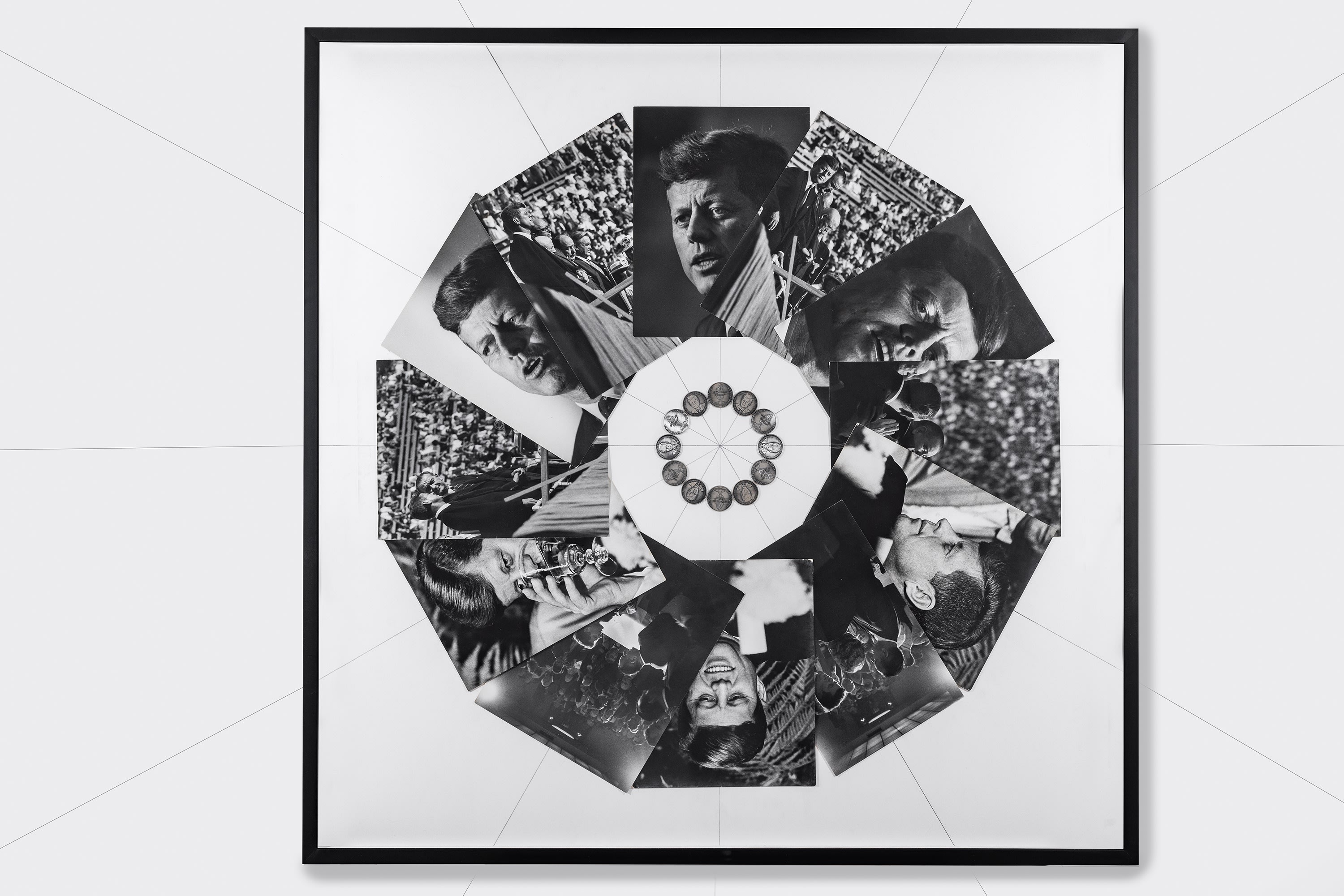 Hua International is pleased to announce The Texture of My Memory, an exhibition of Emmy-award winning filmmaker and artist Dennis Scholl, in the upstairs showroom of the Berlin Gallery (Potsdamer Strasse 81B) on January 27, 2023 with a public reception (6-8 PM), and remaining on view until March 18. The exhibition, organized by gallery artist Rafael Domenech, introduces the artist's hybridized visual arts practice of collection and creation, remapping the porous boundary between art-making and authorship, and inviting a conversation on individual and collective memory, the relationship between value and context, and what it means to create and keep.
Featuring nearly 20 works created out of acquired cultural ephemera that are arranged into a dodecagon shape, a serialized landscape of image, time and space, the show embarks upon a typological voyage through the traditions of the readymade, assemblage, and Pop. Having spent 45 years collecting, Scholl's material list is an archive of historical headlines, iconographies, and personal references, including rare materials like the original tabloids broadcasting Marilyn Monroe's death, 1971 royalty statements addressed to John Lennon and Paul McCartney, and a series of Civil War-era love letters sent to a Union captain from his soon-to-be bride, along with items from Scholl's personal archive—vintage Hermès scarves, his very own Emmy awards, and the baseball cards he began collecting at ten years old.
Also featured in one of the works are photos of United States President John F. Kennedy, along with a dozen coins which state "Ićh Bin Éin Berliner" to commemorate his speech given on June 26, 1963.
The exhibition also involves a series of his geometric drawings, which veer toward abstract expressionism, using thousands of repetitive markings inscribed with micron pens. In a repetitive and meditative rendering of a 12-sided geometric pattern in pencil, the result is the dodecagon's vortexed shape referenced throughout the exhibition.
In conjunction with the collection of artworks, the show will also feature a short film titled, Les Outils Du Jeu (The Tools of the Game), which traces the multi-step process of creating the traditional, American-desired object—the Louisville Slugger baseball bat. In a playful reference to Jean Renoir's 1939 film La Règle du Jeu (The Rules of the Game), Scholl uses the film as a reminder of his own desire to undermine the practices of the art and auction worlds, while lending empathy to our need to contextualize and reassess the values and desires of the past.
Dennis Scholl is a visual artist and filmmaker based in Miami Beach. His studio practice focuses on acquiring objects of desire and reworking them using assemblage.
He mines archival materials, creating unexpected entanglements between memory, artifact and conceptual drawing, while interrogating history. The artist uses source materials that reflect his own lived experience, like baseball cards from his youth, and awards from his filmmaking practice, while also accessing more divergent historical and popular culture resources. His practice questions how we assign meaning and value to these objects and though it seems to conserve and resuscitate archival material, it also reimagines its very form.
His documentary films include a story about a mysterious '50s abstract painter, Soul music in Miami in the '60s, the vanishing elderly Jewish population of Miami Beach in the '70s, a Cuban prima ballerina seeking freedom in the '90s and the greatest jazz singer of the 21st century.
His films have appeared in over one hundred film festivals, including Sundance, SXSW and DOC NYC, winning numerous awards. He has received twenty two regional Emmys from the National Academy of Television Arts and Sciences. His film, The Last Resort, was acquired by Netflix. His most recent feature documentary, Lifeline, was named top ten art films of the year by ARTnews. His short film on the life and work of artist Michael Richards, Are You Down?, was selected for the most recent season of PBS POV.
Scholl and his wife were recently awarded the Order of Australia for their efforts to bring wider recognition in the US of the Aboriginal artist communities of Australia.